Ken Nash | 860-447-1851 | 91 Walker Hill Rd. | Groton, CT 06340 | Monday - Friday 10-6 | E-mail
Westerly Guild Bridges, Muller #10, Hagstrom bass and guitar.
Rosewood and ebony floating and acoustic.
NO INTERNATIONAL SHIPPING, USA ONLY. PAYPAL ONLY. USPS SHIPPING.
Used and N.O.S. bridges.
Westerly bridges varied greatly per batch.
You must send a tracing of the outline and pin hole placement to attempt a match. N.O.S. - $100, Used - $75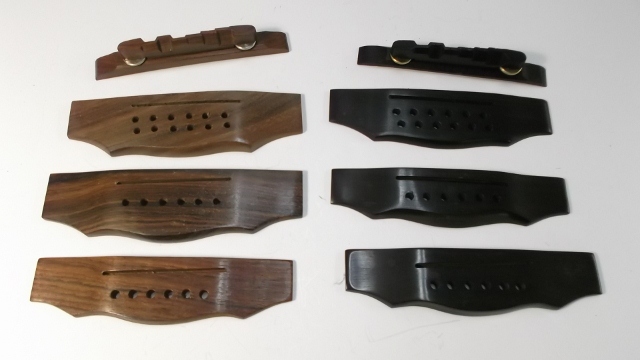 Muller #10 Comparison.
Bottom: 1st version circa 1971. Stud screws into base, unthreaded grommet. 3-1/8" spacing - M5 x .8 thread
Middle: 2nd version. small opening, stud floats in base/threaded grommets. 3-1/8" spacing - M5 x .8 thread
Top: 3rd version: Larger openings, thumbscrews, and saddles.1/4 x 28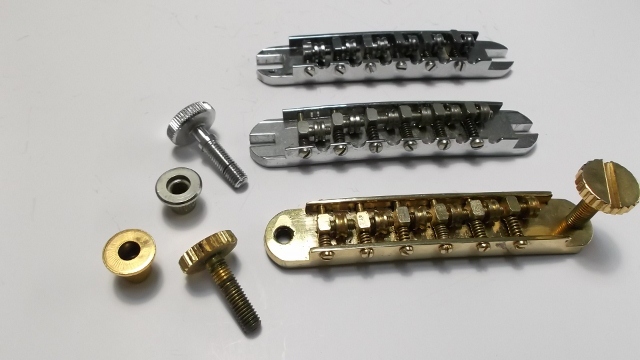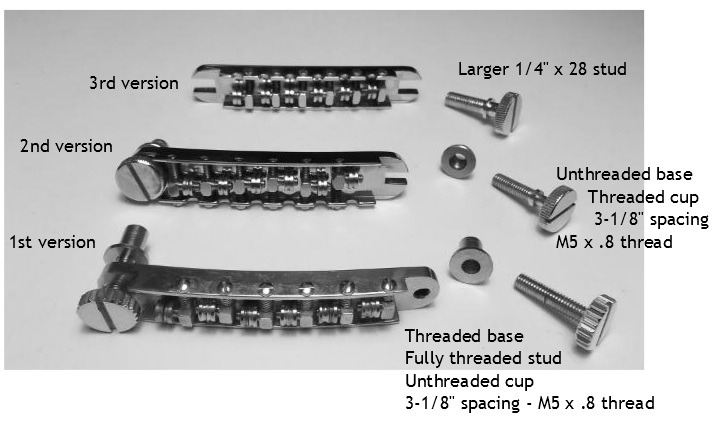 Saddle, block, and screw comparison: Left: 1st version, center: 2nd, right: 3rd.
1st and 2nd are interchangable.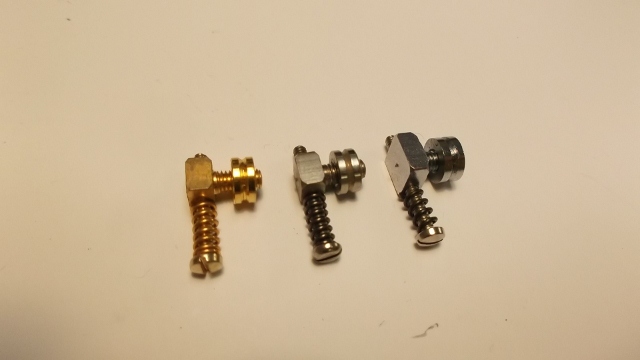 Muller #10 Bridge Rebuild/Parts Page
Muller #10 bridges for sale
Gold 1st version
Top: Excellent condition w/studs and anchors. May be n.o.s. $300 *IN STOCK*
Bottom: Good condition, used $150 *IN STOCK*
Studs and anchors available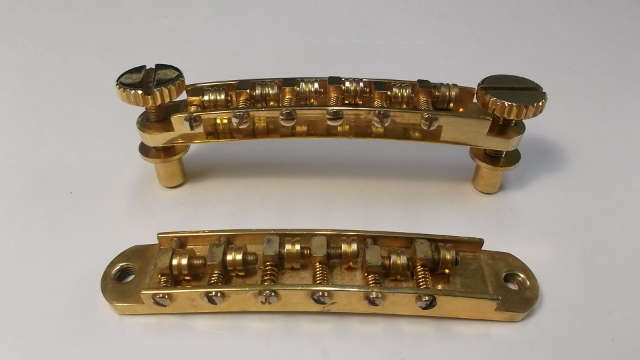 Second version, small thumbscrew opening.
All original parts, very good condition, bridge only - $200, $300 w/studs and grommets *SOLD*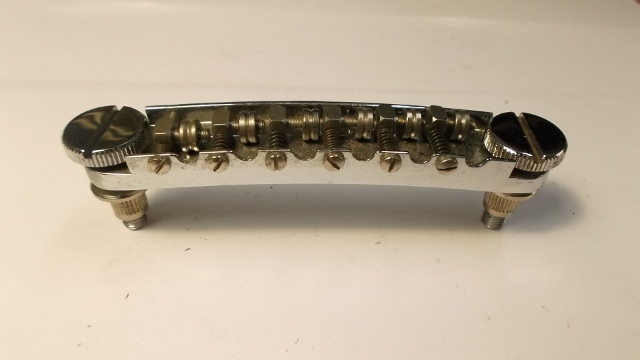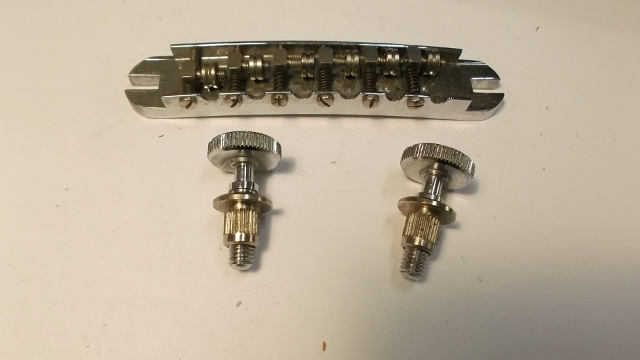 Last version, large thumbscrew opening, all original parts are oiled and turn.
No thumbscrews. $150 *IN STOCK*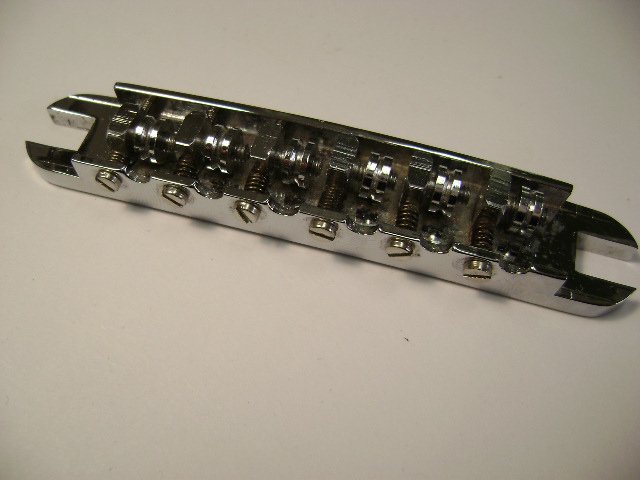 Slant tailpieces available too! $150 w/screws - $125 w/o *IN STOCK*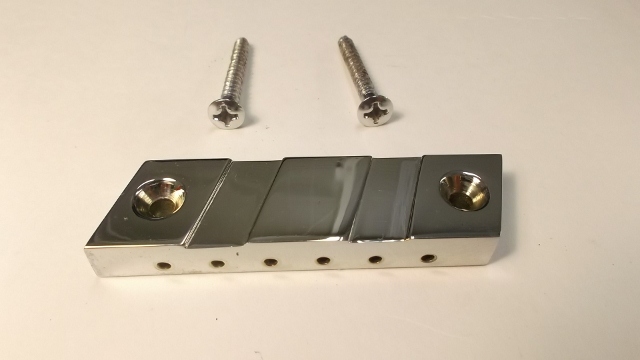 Hagstrom Guild Bridges
60's Hagstrom Guild bridge, thumbscrews not included $100 *SOLD*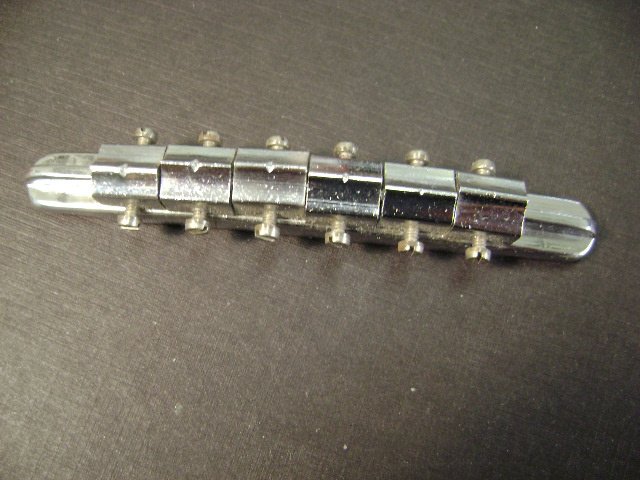 Hagstrom made Guild bass bridge w/rosewood saddles! - $150 *SOLD*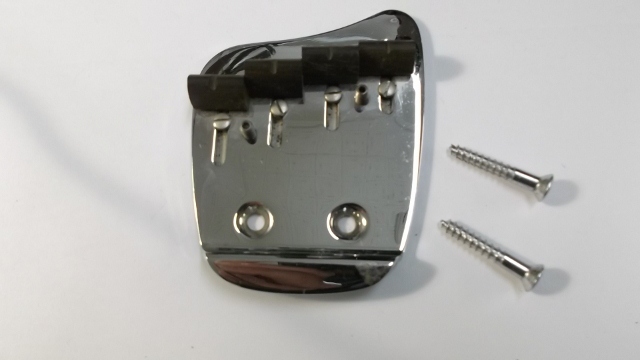 Muller bass bridge w/studs and grommets - $200 *IN STOCK*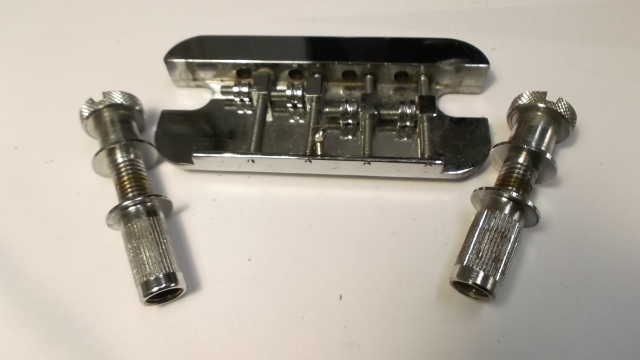 >